Trying to find the ups and downs of the disaster down under.
Australia is finally getting the world's attention. For a small-ish and remote nation this is not every-day fare – but neither is the current situation of fires spreading, homes being destroyed, and Aussies becoming refugees in their own country.
Or is it? Bushfires are definitely nothing new for Australia. The even refer to it as the "bushfire season," almost something you would casually hear in the weather report.
My own brushes with fire
I've seen my share of action while visiting and living in Australia. I was in Melbourne on Black Saturday in 2009, scorching in the 45-degree heat, and seeing fires first-hand from the air on a flight to Sydney that night. These are my photos:
Weeks later, I could see the smoke from the same fires in New Zealand, more than 2,000 kilometres away.
My parents' house in Sydney bordered on a small patch of woodland. They were spared during their nine years living there, but I clearly remember one time while I was visiting, where a blaze had sparked across a nearby gulley. Coming back to the house from a brief walk I found my mother hosing water on the house, the car packed with passports and photo-albums, just in case. The wind turned the other way, however, and we avoided evacuation.
In the local church, I recall a guest speaker from the U.S., who had titled her sermon "The bush still burns," in reference to the old-testament story of Moses and the burning bush. The unintended pun did not go un-noticed, as this was high season for fires. It was also in this church I first experienced modern people seriously praying for rain.
All of this happened in the 2000's. The fires in Australia are no laughing matter, and they are not new. This year is different in magnitude, though.
Disaster gone wild
Months of drought have fueled massive fires which have burned down more than double the size of Denmark, destroying thousands of homes, razing entire towns, killing 25 people and more than 1 billion animals.
Badly hit areas include places I fondly remember visiting, such as the Blue Mountains and Batemans Bay, NSW, and Kangaroo Island, SA.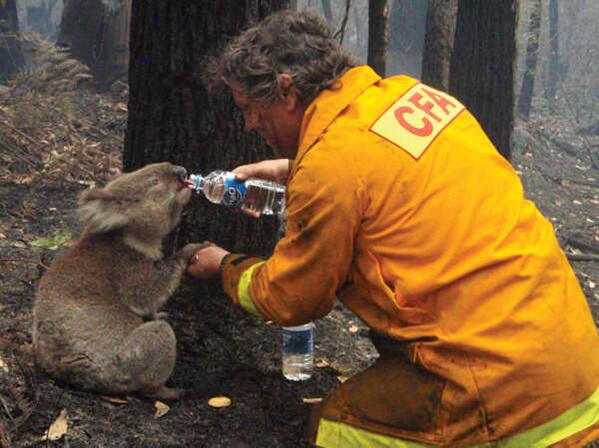 Images of thirsty koalas, red skies, and people fleeing by boat have gone viral. In my native Denmark, for instance, the Red Cross have had to set up a donation fund based on popular demand, which has already attracted donations of more than AUD 50,000 in just a few days.
(If you do want to donate, I recommend ADRA Australia, who have a strong local presence in Australian communities.)
Climate change or human folly?
The big question, though, is why. And this is where it becomes nasty, because people in power – as with most other issues – do not agree.
One consensus is blaming climate change, fully or in part. The New York Times pointed out that "Australia is normally hot and dry in the summer, but climate change, which brings longer and more frequent periods of extreme heat, worsens these conditions and makes vegetation drier and more likely to burn." This is not untrue.
They also took a stab on the country's energy policy, which has long favoured fossil fuels. But they fail to recognise that climate change is a global issue, and Australia's emissions are only a fraction of global outputs. The climate will change or it will not – it's not a revenge game played by the weather gods on those who failed to cut emissions.
But climate change is not the only answer. This piece in the Daily Telegraph recently pointed out the frustration from farmers, who are repeatedly told "now is not the time to have that conversation," only to see nothing happen until the next fire a few years later. What they do point out, for instance, is the repeated lack of hazard-reduction burns – which might have prevented at least some fires from spreading as viciously as they have.
Finally, a series of arson cases are adding fuel to the debate, enabling some politicians to hide behind one-sided arguments and battle each other, instead of doing something useful.
I think the reality is not one simple answer, but a combination of factors:
Australia is dry and hot, and always has been.
Climate change and other weather phenomena are making it even more so.
Human interventions have not been enough, and have been marred by red tape and ideologies.
The morbid appeal of lighting a bushfire is a real threat, as are inadvertent lightings.
My hope is that this great nation comes together not only to fight the fires and help the victims (human and animal), but also actively enact measures that can make a real difference in alleviating the threat in the years to come. I think everyone can at least agree it will not go away on its own.